That's a wrap for September! No worries, I didn't forget about my monthly appreciation. Usually, I have a list of women to go through but this month, I really just focused on myself and bettering myself rather than comparing myself to other women. I feel like appreciating the people that are and aren't in my industry is a good thing. Supporting other woman is a really good thing because we're made out to be catty and bitchy, we're stereotyped as women that can't get along in the workplace and are out to get each other – I blame television and movies for some part in that. Mean Girls… cough, cough although Mean Girls did wrap with a good ending. Let me get back on track, though. Woman of September…
I'm a follower of many magazines and online media outlets — Cosmo and Elite Daily being the two that I really keep up with. People have different perceptions on journalists and writers, sometimes they fuel the fire or that they aren't great people. I don't believe that. I believe they want to uncover something that people are interested in and I know sometimes it's not for good reasons but everyone has to make a living, ya know? Nonetheless, this month my interest was sparked by Prachi Gupta. You're probably wondering who she is? But you might have some idea of what she does from the start of this paragraph.
Prachi Gupta is a Senior Writer at Cosmopolitan and she sparked up some fire this past month. She's written some great articles from the daughters of both candidates — Chelsea Clinton and Ivanka Trump and wife of vice president nominee Tim Kaine, Anne Holton. I think this is important because whoever is elected into office will have their family in their limelight. Prachi comes with her facts and knowledge which is why I think some people were angry. I think she was great and I wanted to tweet her and ask her if she wanted to be my new BFF? Wait… did you miss her story? Well to sum it up for you, she interviewed Ivanka and let's just say that Ivanka wasn't too fond of some of the questions. Now, these weren't questions that were offensive or weird; they were things that Ivanka should have prepared for, in my opinion. You have to always be ready when you're on a red carpet and being interviewed.
I like Ivanka, she seems pretty cool. Her blog is great and it surprises people when I mention it. I have nothing against her. Anyways, Prachi pointed out things that Donald Trump has said and Ivanka either didn't know he had said those things or didn't want to comment on the fact that those things were said.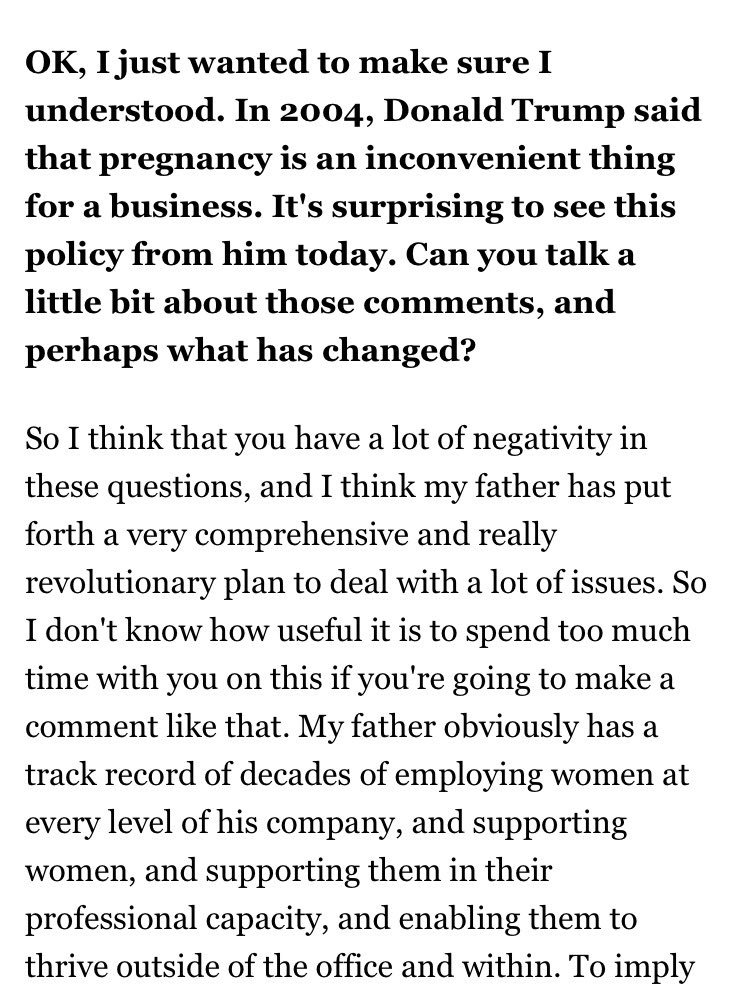 I'm a fan of Chelsea Clinton, I am. She's always seemed well-composed and knows what she is talking about. Her interview really touched on people getting out and voting which I thought was important because there are people out there that think their vote isn't important if they aren't fans of the candidates — your vote is important and Prachi managed to get that out of Chelsea which I thought was important. Not only did she bring us interviews with the two daughters but she introduced those of us to Anne Holton who had no idea who she is. I will say I'm disappointed in myself for just now being introduced to this wonderful woman. She's been married to Time Kaine since the 80's and still has her maiden name — that's something not too many people agree with but she made sense, he never asked for her last name so she never asked for his and I think there's a point to be made. Prachi covered Anne in a light that makes me want to invest more time in figuring out who she is and look more into her Secretary of Education for the Commonwealth of Virginia.
Now, I'm not getting political on anyone and I respect everyone's choice to have a favorite candidate. I'm talking about someone that is involved in a magazine for women and taking the step to keep women informed. I am happy that Cosmopolitan is involving politics because women are a discussion piece when it comes to our rights and who should make decisions on them. Prachi is my choice because she isn't shying away from receiving backlash. Not only that but she is a woman of color, one that is going to be subjected to racism but she's holding her own. She's reporting on things that are targeted towards women and if men don't like that, who cares?
I wish I had the idea to reach out to her and ask her questions but Prachi has a job although I might try one day — ask her about the responses to her pieces and how she deals with backlash. Until then, I can't wait to see what she writes next and what she'll talk about to keep us all informed this Election season.
disclaimer: all images are screen grabs from Cosmopolitan.com and Prachi's website.